Looking for FPGA & IC chips inventory online?
MAX 7000 CPLD Family
The MAX 7000 family of high-density, high-performance PLDs is based on Altera's second-generation MAX architecture. Fabricated with advanced CMOS technology, the EEPROM-based MAX 7000 family provides 600 to 5,000 usable gates, ISP, pin-to-pin delays as fast as 5 ns, and counter speeds of up to 175.4 MHz. MAX 7000S devices in the -5, -6, -7, and -10 speed grades as well as MAX 7000 and MAX 7000E devices in -5, -6, -7, -10P, and -12P speed grades comply with the PCI Special Interest Group (PCI SIG) PCI Local Bus Specification.
The MAX 7000E devices—including the EPM7128E, EPM7160E, EPM7192E, and EPM7256E devices—have several enhanced features: additional global clocking, additional output enable controls, enhanced interconnect resources, fast input registers, and a programmable slew rate.
In-system programmable MAX 7000 devices—called MAX 7000S devices—include the EPM7032S, EPM7064S, EPM7128S, EPM7160S, EPM7192S, and EPM7256S devices. MAX 7000S devices have the enhanced features of MAX 7000E devices as well as JTAG BST circuitry in devices with 128 or more macrocells, ISP, and an open-drain output option.
The MAX 7000 architecture supports 100% TTL emulation and high-density integration of SSI, MSI, and LSI logic functions. The MAX 7000 architecture easily integrates multiple devices ranging from PALs, GALs, and 22V10s to MACH and pLSI devices. MAX 7000 devices are available in a wide range of packages, including PLCC, PGA, PQFP, RQFP, and TQFP packages.
MAX 7000 Device Features
High-performance, EEPROM-based programmable logic devices (PLDs) based on second-generation MAX® architecture
5.0-V in-system programmability (ISP) through the built-in IEEE Std. 1149.1 Joint Test Action Group (JTAG) interface available in MAX 7000S devices
Includes 5.0-V MAX 7000 devices and 5.0-V ISP-based MAX 7000S devices
Built-in JTAG boundary-scan test (BST) circuitry in MAX7000S devices with 128 or more macrocells
Complete EPLD family with logic densities ranging from 600 to 5,000 usable gates
5-ns pin-to-pin logic delays with up to 175.4-MHz counter frequencies (including interconnect)
PCI-compliant devices available
Open-drain output option in MAX 7000S devices
Programmable macrocell flipflops with individual clear, preset, clock, and clock enable controls
Programmable power-saving mode for a reduction of over 50% in each macrocell
Configurable expander product-term distribution, allowing up to 32 product terms per macrocell
44 to 208 pins available in plastic J-lead chip carrier (PLCC), ceramic pin-grid array (PGA), plastic quad flat pack (PQFP), power quad flat pack (RQFP), and 1.0-mm thin quad flat pack (TQFP) packages
3.3-V or 5.0-V operation
Enhanced features available in MAX 7000E and MAX 7000S devices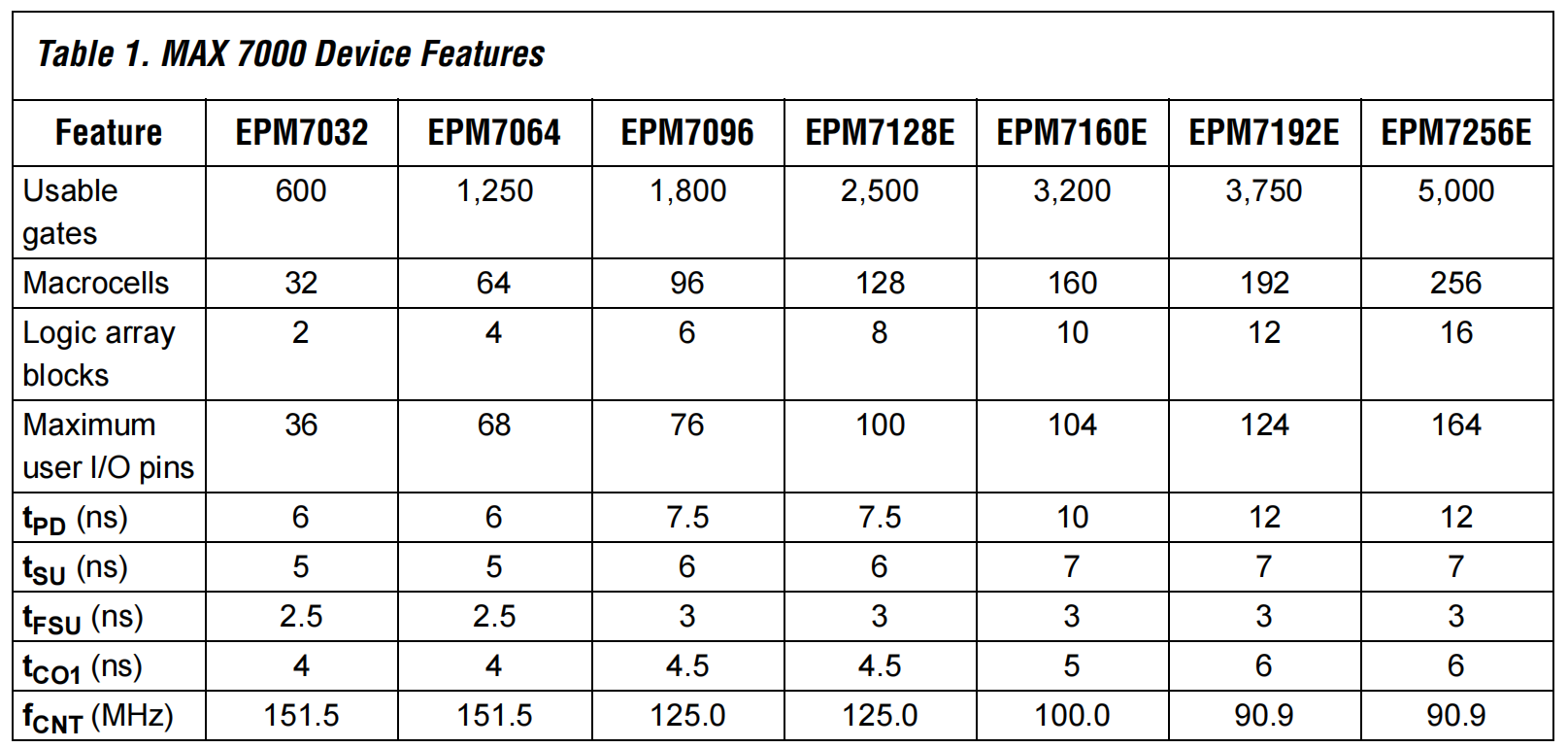 What are the devices of MAX 7000 CPLD?
Note: Only some components are listed, you can try the internal search of the site to find the components, or submit the RFQ below, we receive inquiries and will respond within 24 hours.